Dear Melanders,
🥳🥳🥳 Happy May Day!
April is an exciting month for the Meland team, with a fully upgraded version of the game in the pipeline.
While most of the team's efforts were invested in the development of the new version, improvements to the existing version were not ignored.
Let's take a look at what's updated in Meland in April.
April Improvements
Updated Synthesis System
After listening to the feedback from the community, Meland upgraded the synthesis system.
Detailed descriptions of outputs and materials have been added to the synthesis interface to help players better collect materials and make synthesis decisions.
New level 2 recipes have been added for weapons and equipment. Higher-level recipes require more materials, but have chances to synthesize higher quality items. This provides players with more options.
Upgraded Backpack
Combined with the planning for the new version and feedback from the community, the backpack also got upgrades in April.
First, the backpack layout was adjusted. A new player information panel has been added to the backpack, making it easier for players to visually compare the impact of different equipment on combat values and thus more rationally match their equipment.
Secondly, the subdivision category tab was added to help players find items quickly.
Thirdly, the functions of quick equipping items and destroying items have been added. It is convenient for players to put frequently used items into the quick bar and destroy unnecessary items to free up more backpack space.
Fourth, the quick bar function has been improved. Added the quick bar hiding function and item cooldown tips.
Optimized combat experience
In order for players to better enjoy the Adventure Season, the team also optimized the combat experience in April.
The monster chasing effect is more fluid than before.
The latest update cancels the player's auto-attack, adds different attack actions, and introduces a combo trigger mechanism to make the combat more immersive for players.
Upgraded Marketplace
Considering the large number of player-to-player transactions that will occur when the new version goes live, we upgraded the mall in April to give it the potential to support large numbers and multiple types of transactions.
April Event
The 1st Best Weapons Awards
In April, we held a contest of the most powerful weapons on Discord, and many players showed off the weapons they had synthesized with the highest combat values, and actively exchanged their experiences in collecting materials and recipes.
Partnership with Breach
In April, we have a new partner, Breach, a project dedicated to combining players' gaming experiences with their metaverse avatars. Meland will be working with Breach on a series of collaborations that will bring value to both communities.
Meland Space on Project Galaxy
In April, Meland collaborated with Project Galaxy to create Meland Space. A series of special events will be released soon, and players who participate in these events will be able to earn credentials on Project Galaxy and redeem them for Meland NFT.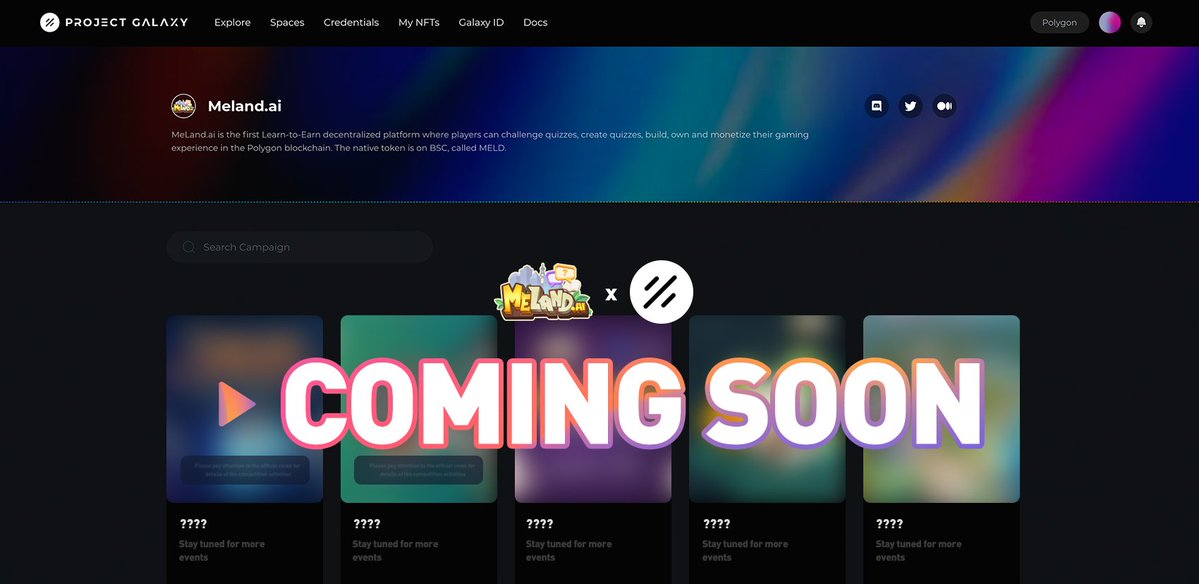 What to expect in May
May will be a very exciting month and Meland will release details about the new version.
Meland will make changes in all aspects including the login method, game model, token economy, staking system, and trading system in order to upgrade to a new version with a more scientific economic model, richer game content, more balanced ecosystem, larger player base, and longer life.
In anticipation of the new version, Meland will also be running frequent marketing campaigns and collaborating with several projects in May.
Thank you all for your continued trust and support.
If you have any suggestions about Meland.ai, please feel free to feedback to us.
You can access the most up-to-date information at https://roadmap.meland.ai/roadmap.
Best regards,
Meland Team